VertiGIS FM version 10.2 was released on November 08, 2023. A complete list of all features and improvements can be found in the changelog at https://changelogs.vertigis.com/.
The most important new features are outlined below:
Platform
VertiGIS FM is now available in Swedish.
Opening hours can be stored for buildings.
Groupware functions like email dispatch and WebPush notifications can now be sent to team members.
Tree management
Measures can be added to or deleted from orders that have already been created.
In the edit view of the work order, a delete button is now available for orders that have already been linked. An Add button is now available at the end of the task list. Orders that have a status of "In planning" and that are not assigned to another work order can be added.
Checklists
In the web interface, additional columns can be displayed for checklists if certain conditions are met.
A rating or an additional catalog can be used as a condition.
Mandatory field means that this catalog/annotation must be filled in when the catalog value is selected.
Visibility means that this field is only displayed when the catalog value is selected.
The checkboxes for Mandatory field and Visibility can be set together or independently of each other.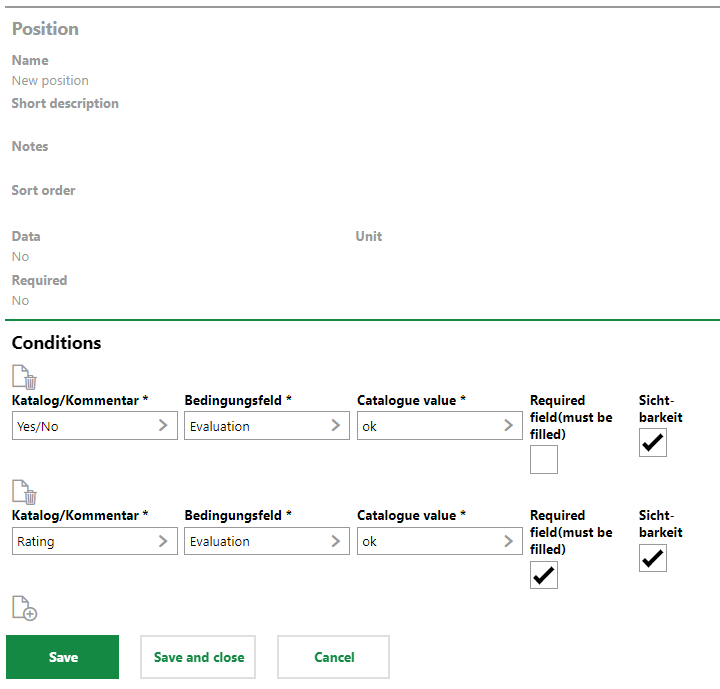 Inventory management
As with devices, inventories can now be linked using hierarchical relationships. The new "Hierarchy" section can be found on the inventory details page. Inventories that have already been entered can be defined as subordinate.
.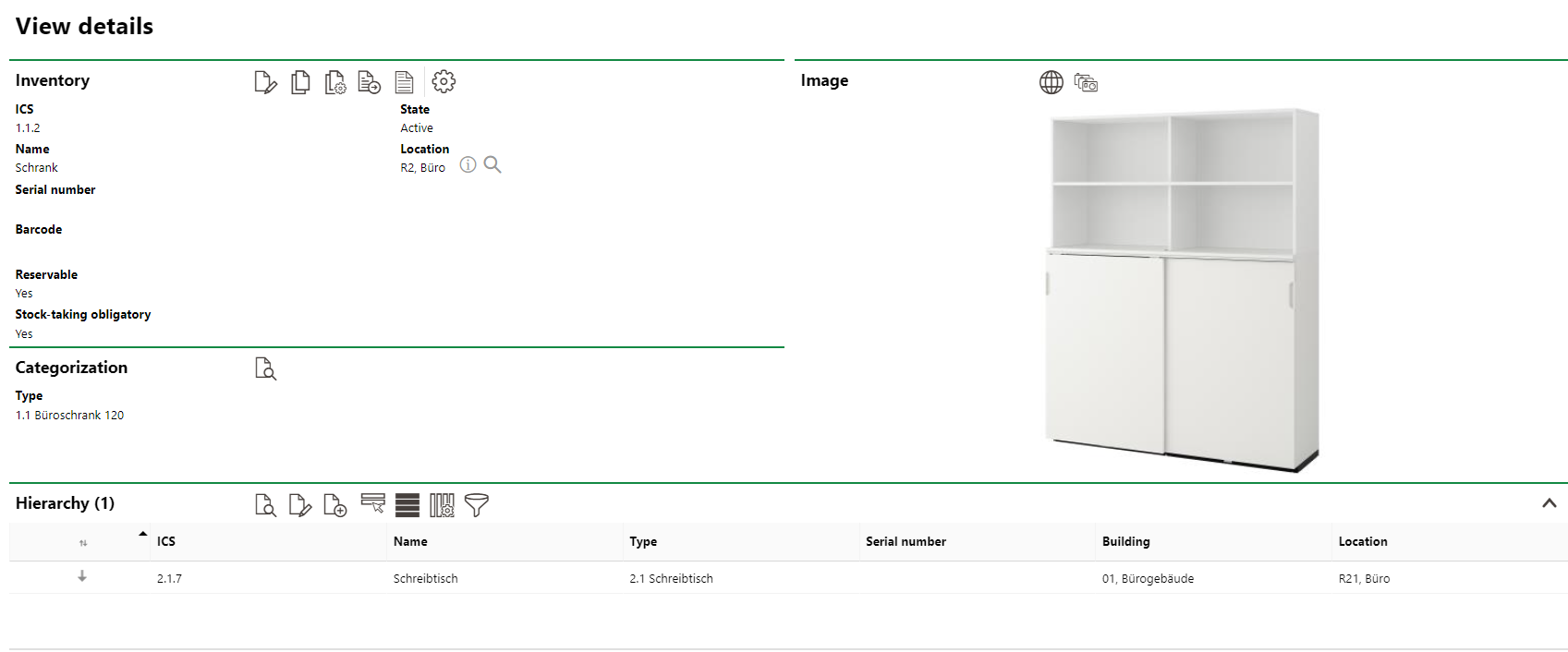 Service Desk
Tickets can now be set to "Finished" directly in the edit view.
If a user has the "Complete ticket / reopen" permission, they can select the "Finished" status for tickets in the web interface and in the web app. When a user saves a ticket with the status "Finished", an empty response for the completed ticket is automatically created in the background with a timestamp for the current time.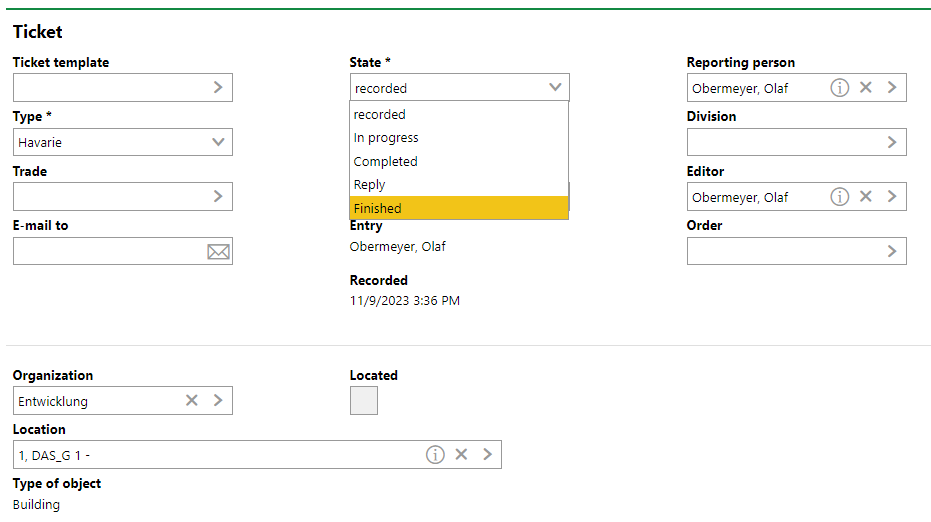 App Maintenance
Work orders are now available in the app and can be processed and completed with time recordings.
Integration of VertiGIS Studio Mobile as an offline map
VertiGIS Studio Mobile has been integrated into the app as an offline map. This feature enables the display of located objects using coloring, navigation within the map, and the display of your GPS position.
The map is configured in the administration under Settings | VertiGIS Studio | Map (Mobile). The map can then be opened in the app. It can be accessed through located objects (e.g., devices, tickets, or defects), or directly through the menu. Tapping a point on the map takes you to the linked object. After editing the object, the app switches back to the map and updates the color scheme if necessary. This enables map-centered work in the app.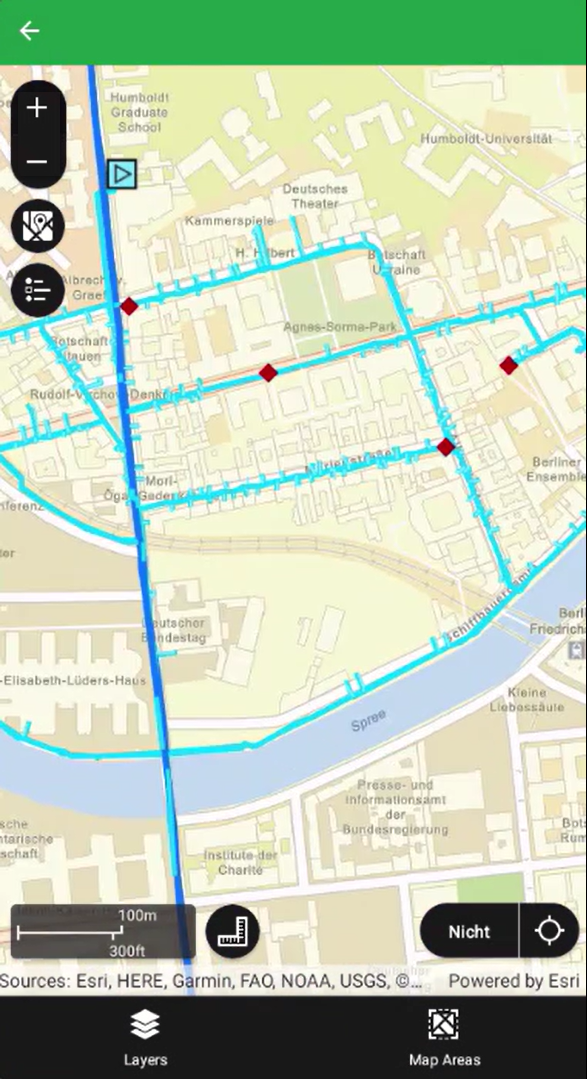 Please note that this version of the app requires VertiGIS FM version 10.2 or newer! If your application has a lower version, we advise against updating the app until you have installed version 10.2!