VertiGIS FM will be released on May 24, 2023 with version 10.1 - with new features and improvements. A complete list of all changes can be found in the changelog at https://changelogs.vertigis.com/
Here is an overview of the most important new features:
GIS
The following functions are available in the map window
Edit and location view
create new location
move / edit location
cancel link (GIS object remains)
delete GIS object
link existing GIS object. Several GIS objects can be assigned to the same FM object, e.g. non-contiguous parts of a green space or street sections with the same key
Detailed view
automatic address search if there is no subject object assignment to a VertiGIS configuration
display of the linked GIS object. select and jump to another FM object located in the map ("Identify")
automatically zoom to the selected object or parent object if search is configured accordingly.
VertiGIS Studio
Functionality to integrate VertiGIS Studio with VertiGIS FM is added under Administration | Settings | VertiGIS Studio:
Azure Active Directory (AD) login is available.
Selection and configuration of VertiGIS Studio Web Apps from ArcGIS Online and from ArcGIS Enterprise Portal is possible. Edit and view workflows can be assigned via a drop-down list (for detail and edit views, respectively).
When creating new map configurations, the "OAuth App ID" must be stored in the field of the same name.
Display scale and zoom out [%] can be defined for the map window.
The map layers available in the web map in VertiGIS Studio can be configured. Assignment to FM objects is possible at this point.
The default search is created automatically. Additional searches are possible. It is also possible to use a parent search attribute as "key field internal", e.g. "Greenspaces-GISKey", so that when a new tree is located, it is zoomed to the parent green space.
This requires an ArcGIS Enterprise or ArcGIS Online account and an existing VertiGIS Studio app. Users who do not have editing rights in VertiGIS Studio cannot perform editing operations in FM.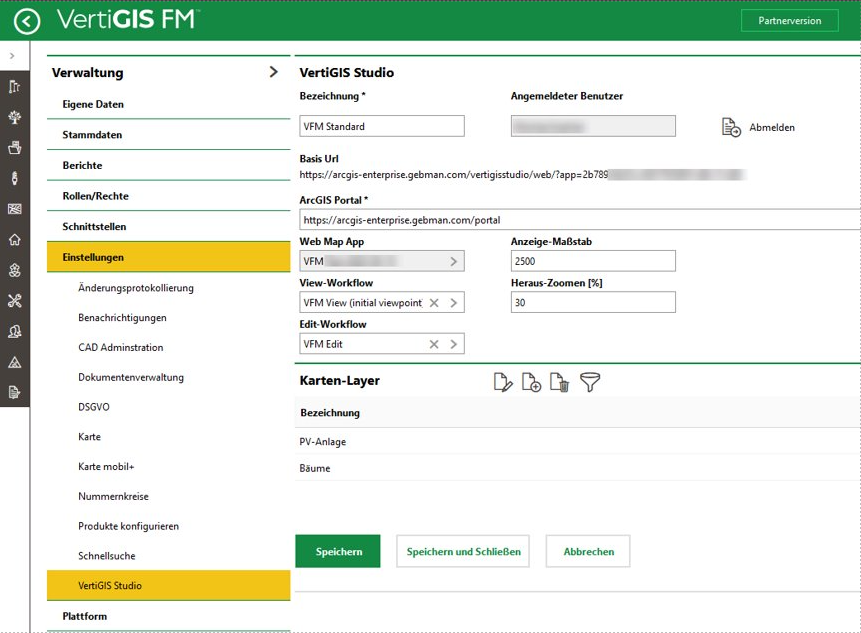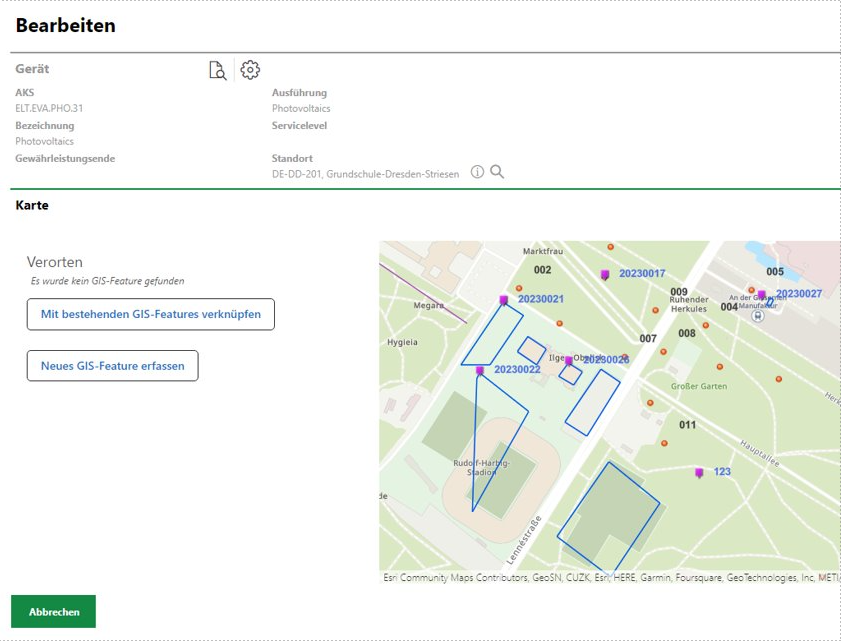 App
The loading times in the Maintenance App have been optimized so that synchronization has been significantly improved.
The role rights that a user has in the Service Desk are passed on to the app. This means, for example, that the user does not see the button for message entry if he or she doesn't have any permissions for this online.
Project management
Multiple editing of various fields is available for projects.