Problem
When displaying the data sources in GEONIS Administrator, the error message appears:
Access violation at address 0054AEBD in module GeonisAdministrator.exe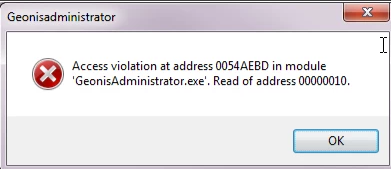 Cause
An XML file is corrupt.
Solution
To find out which data source is causing the error, especially if some data sources are registered, you can sort by modification date and temporarily move the last modified data sources. Continue the exclusion procedure until the data sources can be opened without error message. Once the corrupted XML is identified, the data source must be recreated in the administrator.