Problem
Why does the view not update when zooming or panning the map view?

Cause
A loaded basemap layer overloads the graphics card.
Solution
1. ArcMap menu Customize > ArcMap Options > Data View tab > Uncheck "Enable hardware acceleration for supported layers".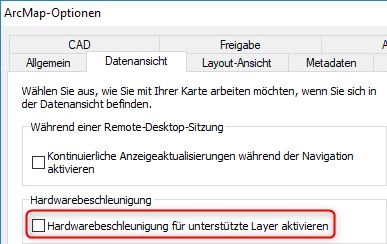 2. do not load a basemap layer in the TOC.
or
3. ungroup the loaded basemap layer.
or
4. install the latest driver of the graphics card.
Note: It also affects the capture of lines, which become visible only after moving them.