Contact your contract partner if you want to apply for a new license!
Notes:
Please note that the licensing has to be compliant with the EULA. For more details see chapter Copyright Information / EULA.
In the case of a server change, a signed certification of Deinstallation must be included with the license request.
•Please read carefully first,
•Copy the license form into your mail client,
•Enter your data for each of the lines. Do not check multiple options in one line please,
•Send us the completed form - only if the form is completed correctly VertiGIS will be able to quickly provide a license to you!
Please contact VertiGIS GmbH via:
E-mail: weboffice-keycode@vertigis.com
Phone: +43 (0)59908-0
E-mail for German Customers: lizenzen@aed-synergis.de
E-mail for Swiss Customers: support@geocom.ch
Please provide:
•your name (name of the client)
•physical MAC address (see Gather Required Information for License)
•software components including the version
•the email address to which the license is to be sent
When using the following form you can replace empty check boxes with the following symbol: ☒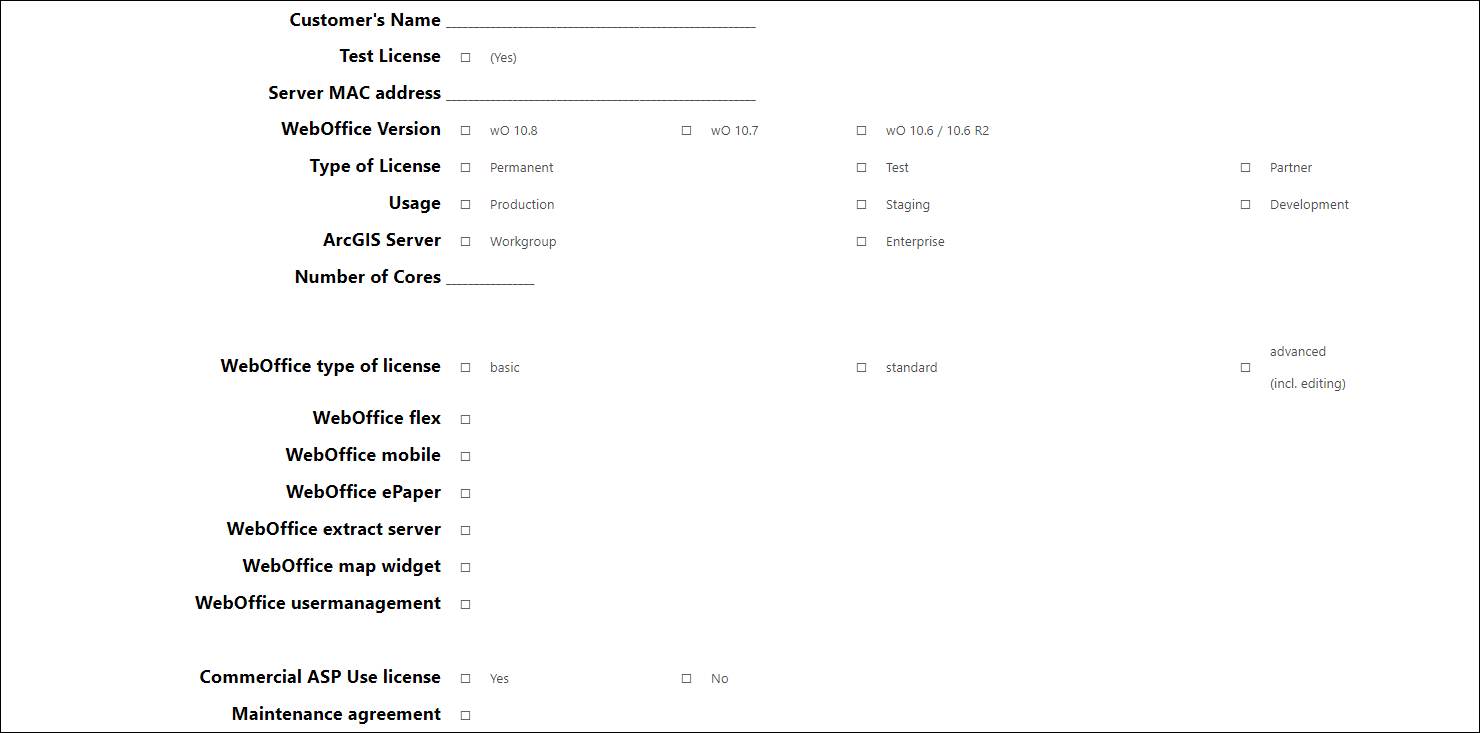 Note: Licenses can be provided by VertiGIS GmbH from Monday to Friday on Austrian business days to Austrian office hours (9 am to 5 pm).
Note: The use of type 'Demo License' is limited to a period of 3 months! It is possible to renew the demo license for another 3 months, please contact weboffice-keycode@vertigis.com for more information.
Note: For an overview of the different license types of WebOffice please refer to the chapter Product Overview.
Note: 'Commercial ASP Use' means use as a commercial application service provider, that is, to generate revenue by providing access to Software or Online Services through a Value-Added Application, for example, by charging a subscription fee, service fee, or any other form of transaction fee or by generating more than incidental advertising revenue.