New installation
For basic information on re-installation, please refer to the manual (currently only available in German): https://docs.vertigis.com/fm/10.0/de/Home/index.html?po_gm_gen_neuinstallation.htm
Please note:
- You need a valid license
Update/conversion of GEBman/ProOffice
There are no new installation instructions. The setup routine is the same as before. Please uninstall the old installation before the update.
Before you run the update, request a new license for the version you want to install.
Make a backup of the application directory and database for safety.
For each update, the appropriate CustomFiles are necessary. For example, if you plan to update to VertiGIS FM V10.0, you will need the CustomFiles compatible with that version. These are usually sent to you with the setup/deployment. If this is not the case, please ask your project manager or contact support.
The database can be transferred. Do not create a new database during setup - deselect the database in the corresponding step in setup (click on the arrow next to the database > 'The entire function will not be available'):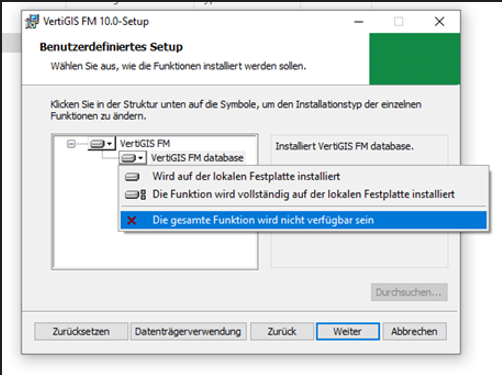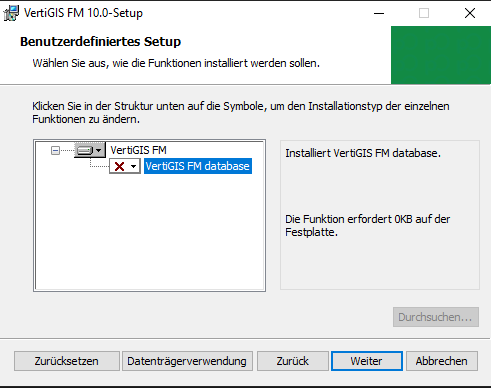 Attention: The database name and the server name must be entered after the setup, before the application is started, via connection string (see module.config.sql.xaml/ module.config.ora.xaml). You can use the whole string from the old installation (application folder), which you have saved before. In the screenshot it is line 23.
6. Mobil+ must be uninstalled and reinstalled due to new branding. Please do not forget to save the TPK!
7. Stop the AppPool (in IIS) if you want to access an existing one before running the setup.
Other tips - before installation
Before updating, check if you want to keep the link/URL to your site or if it should be changed. Since the product name will change from GEBman/ ProOffice to VertiGIS FM with the update to version 10.0, this may need to be considered. If this is desired, we recommend that you also coordinate with your server administrator/supervisor. Nevertheless, it is up to you under which name you run your application and it is also possible to keep the old name.
If you use the external service desk mask, please note that you have to adjust the path of your site in the IIS to the new installation directory.
Tips for installation
Do not use spaces in the destination folder of your installation.